New Control for Off-grid wind turbine applications: the MCE-ARS
REMOTE & SCADA CONTROL SWITCH
Designed For Superwind®
350 & 353 Turbines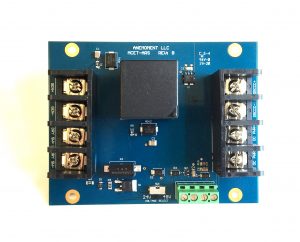 Mission Critical Energy's remote control switch, Part number MCE-ARS, was designed to enable a Superwind 350 watt (D.C. output) wind turbine to be stopped remotely – while still maintaining the attributes of the manual switch, including a complete disconnect from the charge controller and battery bank.
Released from Beta in summer 2018 and in full production in 2019, the MCE-ARS allows a monitoring system to control the switch via a dry contact. This feature allows the end user remote control of the wind turbine through the users own communication system (broadband), cell towers, or even satellite communications.
Better wind turbine survival:  In 2019 superwind GmbH released new guildlines for its Superwind 350 & 353 turbines – adding an extended survival rating of 110 mph if the turbine was turned off between 80 and 110 mph.   For commercial customers with harsh conditions and remote sites, getting access to the wind turbine in known extreme weather events – such as an approaching storm or hurricane might be difficult, however when a monitoring system (such as FlexSCADA) is utilized, and an auxiliary or active 'dry contact' available, the remote switch can be used and help the superwind wind turbine survive in extended ranges (beyond the operational limits of 0 to 80 mph).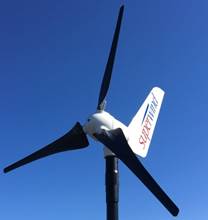 In addition, when a wind speed measurement device (anemometer) is partnered with a FlexSCADA monitoring and control RTU, there can be autonomous control between the wind turbine and the FlexSCADA – as the FlexSCADA unit can shut the wind turbine off at 75 mph and allow the turbine to remain off until a combination of lower wind speeds and duration of time is achieved. If a wind speed indicator is not available, the wind turbine may be turned off by way of amperage control. In a 24V system for instance, the turbine will work within its operational values of 0 – 80 mph (o to 15 amps) however if amperage above 15.1 is detected, the turbine can be remotely and autonomously turned off to help achive survival in gusts and high wind events.
To purchase the MCE-ARS, please visit https://flexscadafusion.com/product/mce-ars-wind-turbine-stop-switch/ .
For more information on the MCE-ARS automatic remote stop switch, please contact Mission Critical Energy Customer service at +1 716 276 8465 or email us at sales@missioncriticalenergy.com.
To download the MCE-ARS installation guide, please visit our service bulletin section here https://missioncriticalenergy.com/wp-content/uploads/2019/09/SB-0006-18-301-SW-35X-ARS.pdf .