Flexs Q5 Remote Site Telemetry and Control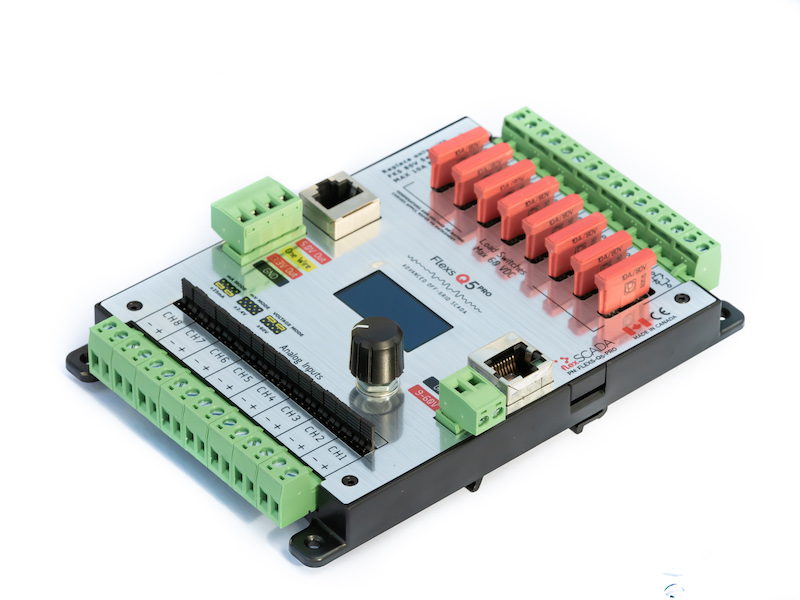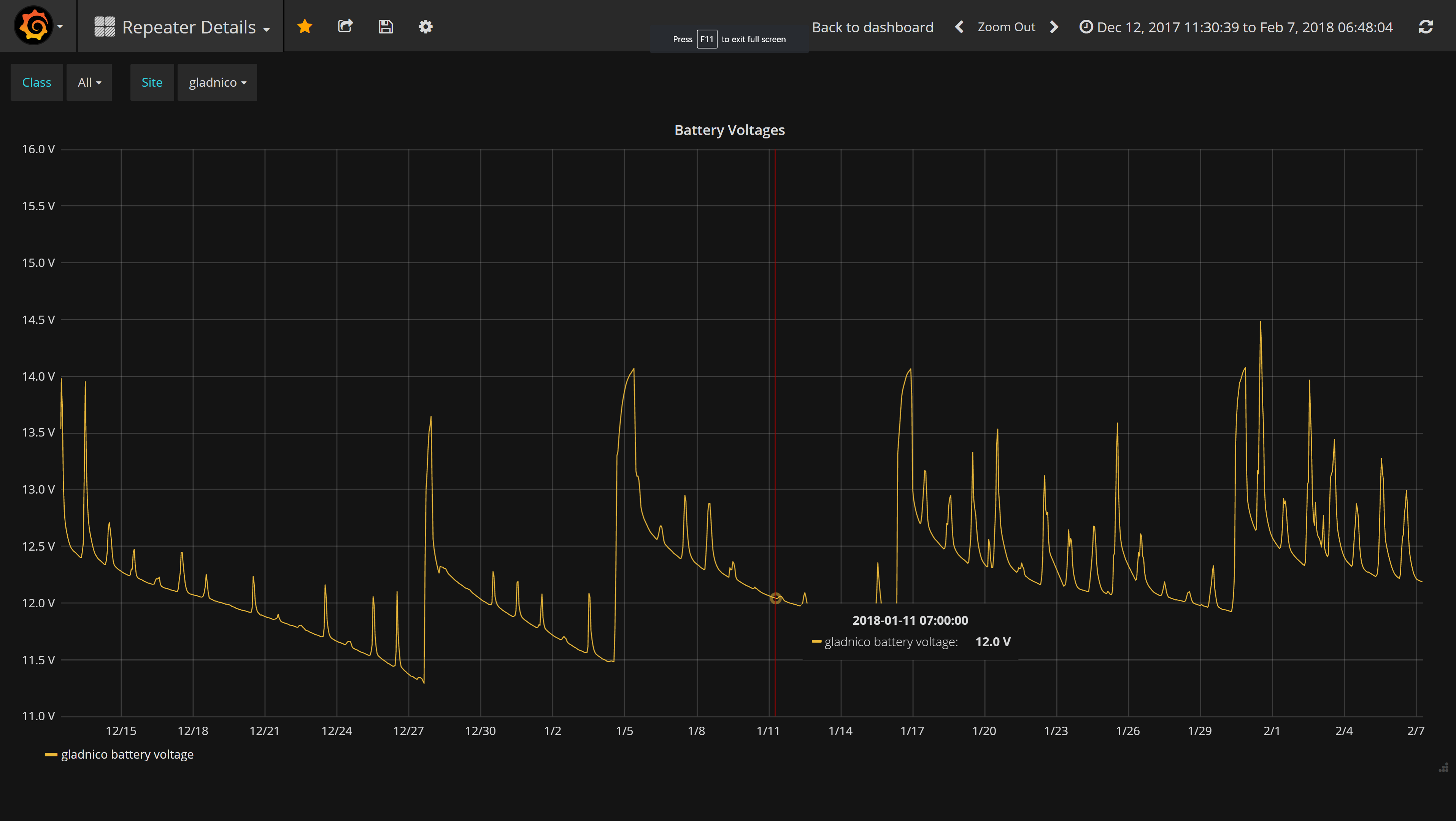 Remote monitoring is as easy as 1 – 2 – 3!

1

CONNECT DC POWER

The Flexs Q5 is designed to run directly from battery banks ranging from 12v to 48V

2

ATTACH SENSORS

Connect voltages or sensors that you want to measure to any of the 8 voltmeter channels

3

VIEW READINGS

Simply connect your laptop to the device via ethernet cable (up to 300 meters) and open your favorite web browser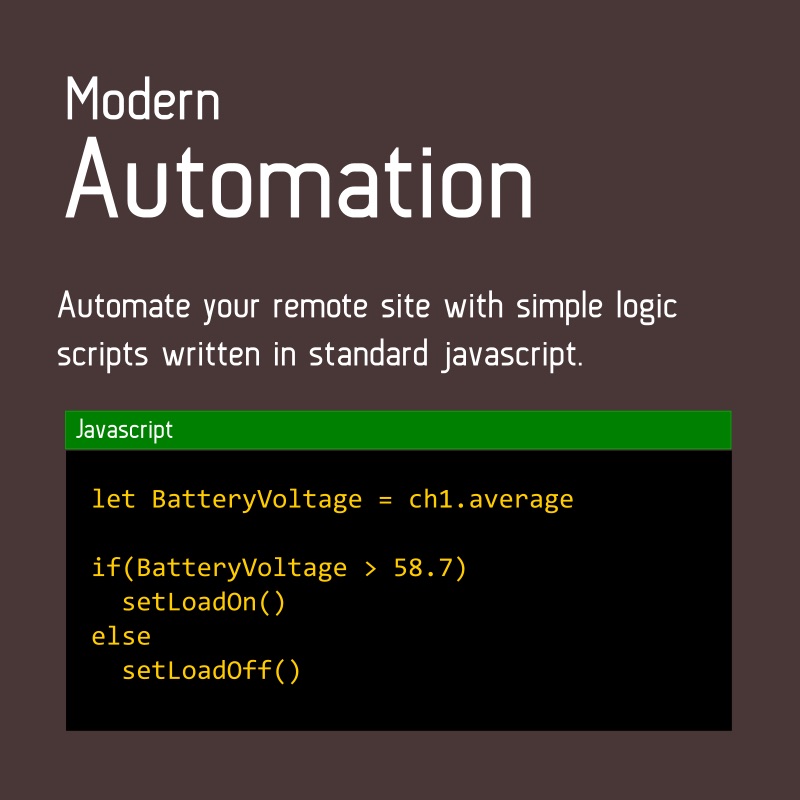 Full Specs
Analog Inputs
Voltage Range: ±60V AC / DC   With  4-20MA Mode
Type: 24 Bit Fully Differential Bipolar (Allows measuring voltages with floating grounds such as individual cell voltages, etc)
Sample Rate: Up to 16K Samples Per Second with AVG, MIN, MAX, RIPPLE and RMS aggregation options
Accuracy:
00005 V @ ±60v range

000004 V precision @ ±5V range
Modes: 
Analog Value

Dry contact / Alarm Contact

Pulse Counter

Frequency counter
Additional Features:
Configurable voltage threshold levels for frequency, pulse and dry contact modes

Can push to server immediately on alarm contact change

On-board 5V output for powering sensors

Power Vector Calculation for RMS Voltage, RMS Current, Watts, Power factor, Hz, etc.

Web based oscilloscope function allows for analysis of harmful interference often caused by MPPT and PWM type battery chargers or signal distortion from noise.
Load Switches
Electrical Rating: Up to 60V / 10A Max (100A Surge <1ms)
Fusing: Standard ATO blade style fuse
Digital Fusing: Programmable fast or slow blow digital fusing from .25A to 5A with configurable retry period
Load Monitoring: Current sensing on all 8 channels, 2ma precision (0-5A range)
Switching Time: typ <4ms @ 8A
Type: Isolated Solid State N-Channel FET /W Flyback Protection
Isolation:  Fully Isolated
Additional features:
High side or low side switching

Optically isolated 8V gate drive output can be used to drive larger or higher voltage external FET's
Temp Sensors
Sensor Type: DS18B20 Digital One-Wire temperature sensors
Max Sensors: Up to 64 individually addressable sensors on the same bus
Accuracy: 0.025C over -40C to +100C (Approx)
Additional Information:
3V Output Terminal for powering sensors

Checksum verification to prevent bad readings

Automatic sensor detection

Robust EMI and Surge Protection

Individual sensor addressing allows for seamless adding of new sensors
Connectivity
ETHERNET
IEEE 802.3az Energy Efficient Ethernet (EEE)

±16-kV IEC 61000-4-2 Level 4 ESD Protection

IEEE 802.3 Auto-Negotiation and Parallel Detection

IEEE 802.3 ENDEC, 10BASE-T Transceivers and Filters

IEEE 802.3 PCS, 100BASE-TX Transceivers and Filters

Integrated ANSI X3.263 Compliant TP-PMD Physical Sub-Layer with Adaptive Equalization and Baseline Wander Compensation

Error-Free 100Base-T Operation up to 150 Meters Under Typical Conditions

Error-Free 10Base-T Operation up to 300 Meters Under Typical Conditions

Automatic Power Back Off to reduce power up in systems with shorter cables
Additional Info
Physical
Environment:  – 40 ~ +85C Industrial Operation Range (95% RH Non Condensing)
Power Supply: 9-60V DC (Reverse polarity and surge protected)
Power Consumption:  typ 0.6 Watts @ 12 Volts
Form Factor: 157mm x 108mm x 40mm
Mounting: DIN or Edge Screw holes
Additional Information:
Removable screw terminals

3″ OLED display

Rotary encoder allows viewing of all measurements locally and controlling relays

3D Models available upon request for design assistance

00V output is Ultra Low Noise linear post regulated from a 5.5V DC DC buck converter for optimum efficiency and accuracy over the full temperature range
Software
Easy to use mobile friendly web interface

One click setup of free cloud monitoring to help you get started easily with your new device.

Automatic relay control based on ping status or timers

JSON, SNMP, MQTT, ModBUS TCP support for integration with existing infrastructure or network monitoring packages.

Onboard javascript scripting for automating more complex control elements
Pricing and availability
The Flexs Q5 is now available. Please contact us for pricing and availability.
Here's a few of the many positive feedback's we've received..
Thanks so much for this very well thought out product!  We have several remote sites that are off grid which we needed to monitor, after searching around and trying several solutions we finally found your product. we use it to monitor battery levels and charge current, and to switch loads on and off.  The software allowed us to easily setup conditions to turn off cameras when battery levels were low and to start the generator.
Shane Koney
Customer, USA
---
We've installed at least 20 Q4's at our wireless towers and couldn't be happier, they've always been easy to use and extremely reliable.  Several of our sites are over 6500′ and inaccessible for weeks at a time during the winter and the Flexs Q4 has always performed flawlessly.  Previous to this we would have to replace our monitoring devices after about every lightning strike.
Robert Richards
Director – Lyttonnet