THE NEW EDGE OF REMOTE CONTROL AND MONITORING!
FlexSCADA is an engineering and manufacturing company specialized in ultra low power SCADA devices, targeting and monitoring remote sites which are powered by solar and wind.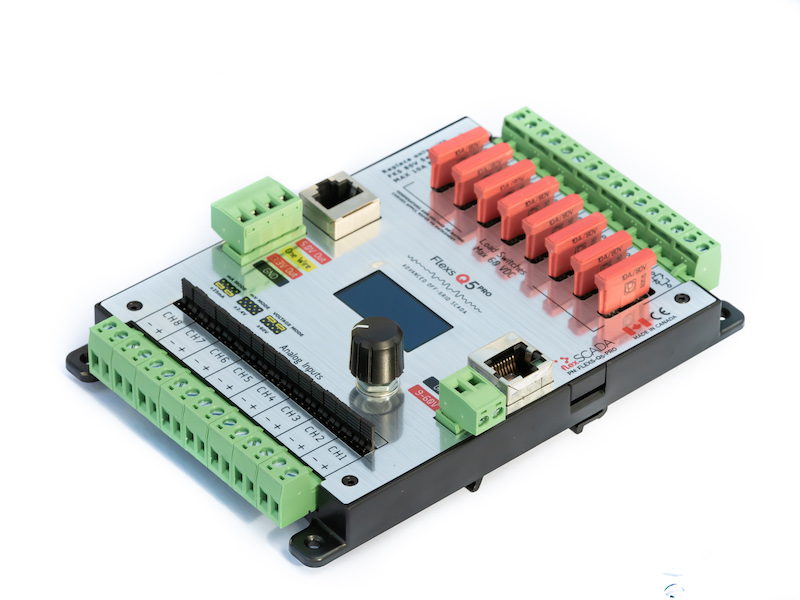 FlexScada opened operation in 2003 providing products and solutions to the Oil & Gas industry. Since then SCADA & Telemetry systems have been installed at Water Districts, Municipalities, Mines, Solar Farms, Hydro Plants, Remote Repeater Sites and factories around the world.
What is SCADA?
SCADA (supervisory control and data acquisition) is an industrial control system at the core of many modern industries such as manufacturing, energy, water, power, transportation, site monitoring and much more. SCADA systems deploy multiple technologies that allow organizations to visualize, gather, and process data metrics as well as send commands to those points that are transmitting data. Virtually anywhere you look in today's world, you will find some version of a SCADA system running, whether it's at your local supermarket, refinery, waste water treatment plant, or even your own home.
GET MORE THAN MONITORING FOR YOUR MONEY.
The goal of FlexScada.com is to create resources that provide users with basic web browser skills to monitor remote infrastructure. Things like treatment plants, industrial processes and remote sites with parameters like Pressure, Flow, Temperature, Voltage, Amperage, Engine RPM, Watts, Etc…
Flexs Q series of Off-Grid SCADA devices have been used around the world at remote telecommunication, oil/gas and seismic sites providing continuous 24/7 operation for years at a time.
Keep it simple!
One small device for a big job monitoring remote or local sites right from your laptop or your smart phone.
Scada Systems
Telemetry Systems
Remote Site Monitoring
Intrusion Detection and Alarm Monitoring
Email, SMS and Voice notifications
Sensor IP Gateways
Remote DC or AC Power Metering and Quality monitoring
Custom networking & automation for your specific application
DETAILS DONE RIGHT
Limitless options available to you from one device
Cloud Ready

Readings from the device can be uploaded to the cloud through MQTT, JSON, UDP or SNMP.

Ultra Low Power Consumption

The Flexs Q5 & Q5 Pro are specially designed for use at remote off grid sites where reliability and power consumption mean everything

Quick-to-Install and Easy-to-Use

Configuration is done through intuitive on board web interface, All you need to do is connect power and a network cable.

We, at Mission Critical Energy Inc., have years of experience taking advantage of natural sources wind and sun and have been completing projects around the world cost effectively and on-time. That is why we are always proud to take care of our client's personal interest when they bring to us their projects. Our firm commitment to their needs is our best tool as we try very hard to have our clients to stand out above the rest.