What is the Flex Q4
The Flex Q4 is an advanced single piece of hardware that includes everything needed for wireless control and monitoring, simplifying installation, reducing power consumption and increasing reliability.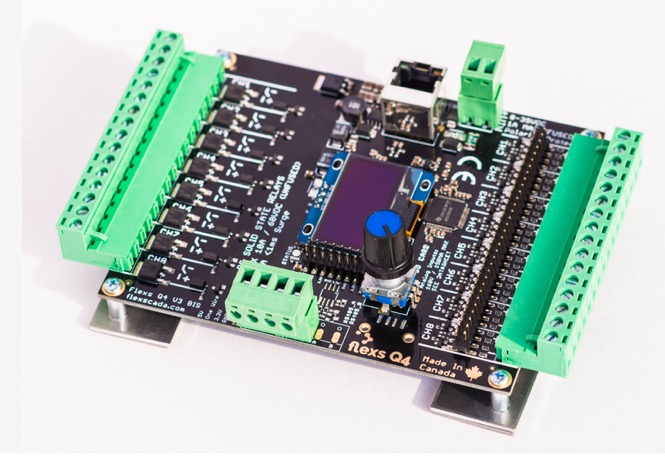 It can monitor up to EIGHT separate voltages and control up to EIGHT load relays through the internet from your smart phone or laptop.
On board logic is also available for controlling the relay switches with timers or based on analog input thresholds. 
Power consumption is very little. It is typical to be AS LOW AS 0.4 WATTS. This is 2-10 times less than competitors making it an ideal fit for solar, wind and battery powered sites.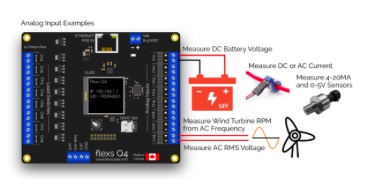 The universal analog inputs on the Flexs Q4 can measure DC or AC voltage up to 60 volts above or below ground and feature jumper configurable modes for 4-20ma and 0-5V sensors.
Easy web based configuration allows to select software modes for measuring DC Voltage, RMS Voltage, Pulses, AC Frequency and more!
Here's just a few examples of what customers are using the on board voltmeters to measure
Battery Voltage, even individual cell voltages

Solar Charge or Load Amps (Current sensor with 0-5V, 4-20ma or 0.333v output required)

Wind Turbine RPM (Derived from AC output leads on three phase turbines)

Rain Gauges (Pulse Output)

Anemometers (Pulse Output)

AC Line Voltage (Transformer or resistors required)

AC Current Transformers (CT's) (0.333v, 33ma or 50ma output types)

Temperature Sensors

Luminosity Sensors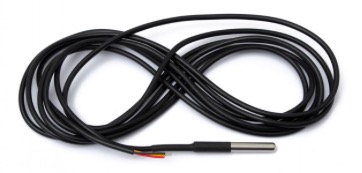 A One Wire bus is also available for connecting up to 32 DS18B20 or DS18s20 temperature probes
What can the Flexs Q4 control with it's relays?
There are two variants of the Flexs Q4.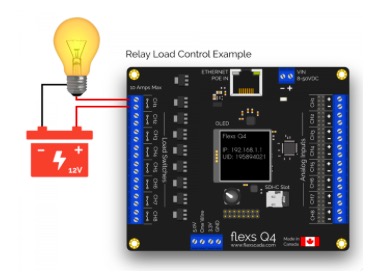 Variant one features eight DC only isolated solid state relay switches that can switch up to 10A (50A <1ms), Max 60V
Variant two features four isolated latching relays that can switch up to 16A (AC or DC), Max 250VAC
Here's a few examples of how customers are using the relays
Remotely Power-cycling Devices or Radios

Controlling fans, pumps, chargers or dump loads.

Remotely starting generators

Logic rules can be easily configured through the devices onboard web server to switch the onboard relays automatically based on timers, analog input thresholds or lost ping counters.
How is the Flexs Q4 configured and setup?
The Flexs Q4 runs a local embedded web server and is configured the same way you would setup your home router.
No programming or plc experience is necessary. Just plug a power and network cable into your device and you're ready to start switching loads and measuring voltages from your computer or smart phones web browser!
You can see our quick start guide here or login to an actual device here
How can we view and log measurements?

The Flexs Q4 features on on-board webserver that can be accessed from your smartphone our laptop to view measurements and control relays.
We've also designed our device to be compatible with a wide selection of open protocols allowing you to integrate with many off the shelf monitoring solutions.
Here's a few of the protocols supported:
SNMP

JSON (through HTTP GET requests)

UDP

HTTP
For detailed technical descriptions of each method please refer to ourintegration guide, FlexSCADA also offers it's own cloud based monitoring platform which is based on open source software (screenshot left)
Is the Flexs Q4 Reliable?
Throughout the past year we have deployed Flexs Q4's across all eight continents of the world and have yet to see a device fail during operation.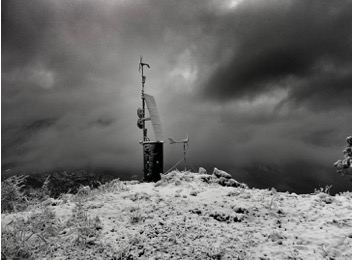 Flex Q4 is specifically created for operation in rugged and remote environments and is engineered around an IEC 60730 Safety Rated CPU which operates at 3.3V ensuring maximum immunity from harsh ESD and EMI interference, an external watchdog timer will also reset the unit after a brown out or other power failure causing improper CPU operation.
The Flexs Q4 also features a 100% solid state design with no electrolytic capacitors ensuring decades of reliable operation under harsh conditions.