Superwind Micro Wind Turbines
Superwind Turbine
SW-350 V.1 (2002 – 2022)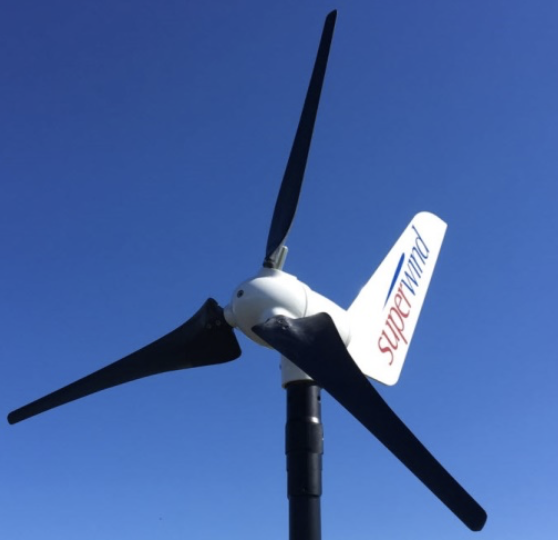 The Superwind 350 V.1 has had two decades of success and thousands of integrations world-wide for a good reason.  The rotor based over-speed control – Superwind's famous 'furling' blades, has allowed this micro wind turbine to survive high wind speeds all the while producing electric power from 8 mph to 90 mph.  No other wind turbine in it's class can match this track record.
The Superwind 350 Kit comes complete with a dedicated external charge controller, a weather resistant diversion load,  a stop/run switch, Delryn mast integration busing and manual. 
The 12V Version is White with Black Blades. 24V and 48V Versions are Black with Black Blades.  All turbines are 'voltage specific' meaning the turbine must be ordered in 12V, 24V or 48V – and voltages are not interchangeable.
$2,850 USD
Superwind Turbine
SW-350-II (2022 – present)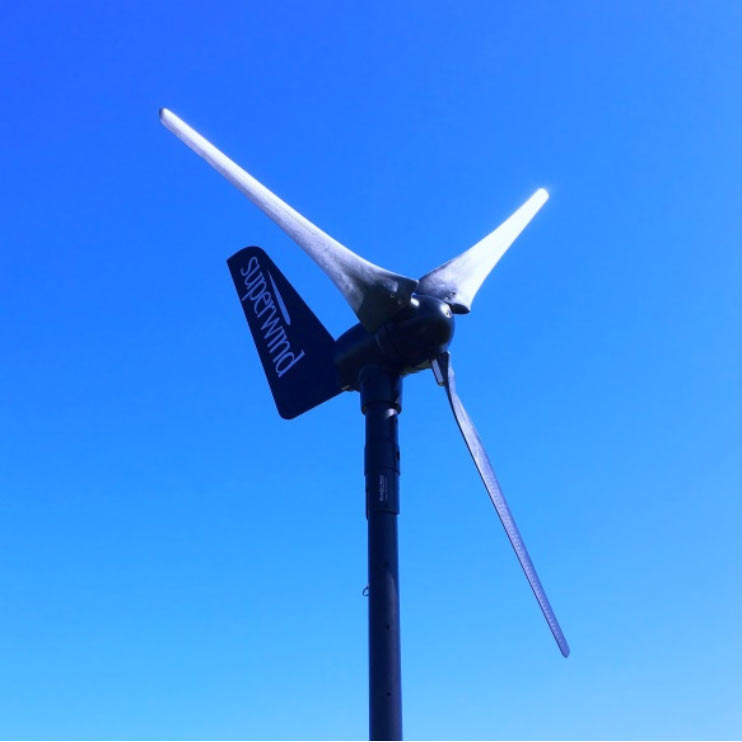 The SW-350 II combines the hardworking history and capabilities of the original (2002) SW-350 with Superwind's "Star Hub" (Synchronous-Technology-Autonomous-Rotor) system technology . 
The SW-350 II; blades, charge controller, diversion load, safety switch, etc. are the same technology as the original SW-350 – as is the mast integration.
By 2023, only the Superwind 350-II will be produced, phasing out the original SW-350.  We will bring you more information as soon as new Superwind documentation and performance data becomes available.                               
$3,450 USD
Superwind Turbine
Optional SW-350 (V.1 or V.II) High Visibility Blade Set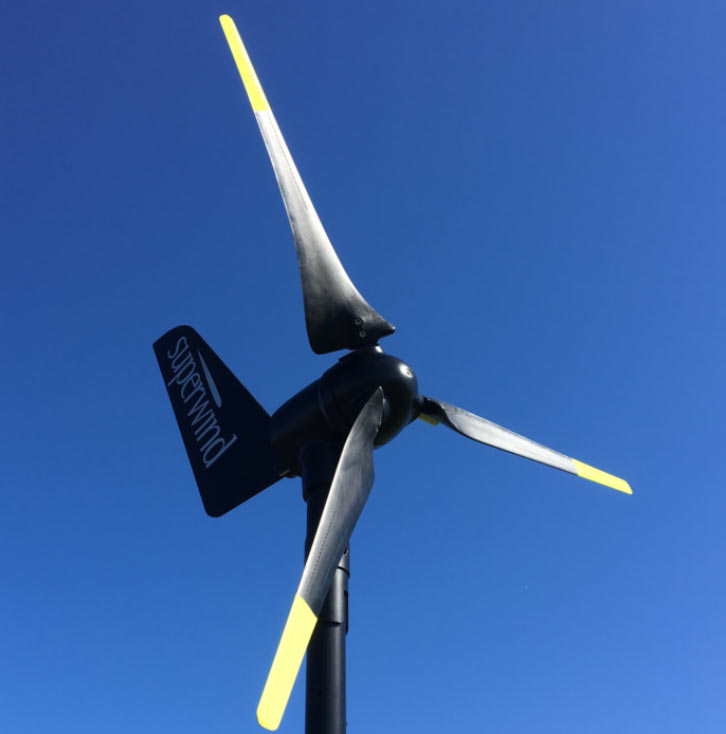 Developed by the French Coast Guard in 2004 for use on their lighthouses, the special yellow green color high visibility paint allows for proximate awareness in low light conditions (such as dusk and dawn) – even during operation.
Like the Standard blade set, these special blades are only sold as a set – and balanced by both pitch deflection and weight.
This option is only available for SW-350 turbines (original and version II).
$ 450
Superwind Turbine
SW-353 (2017 – present)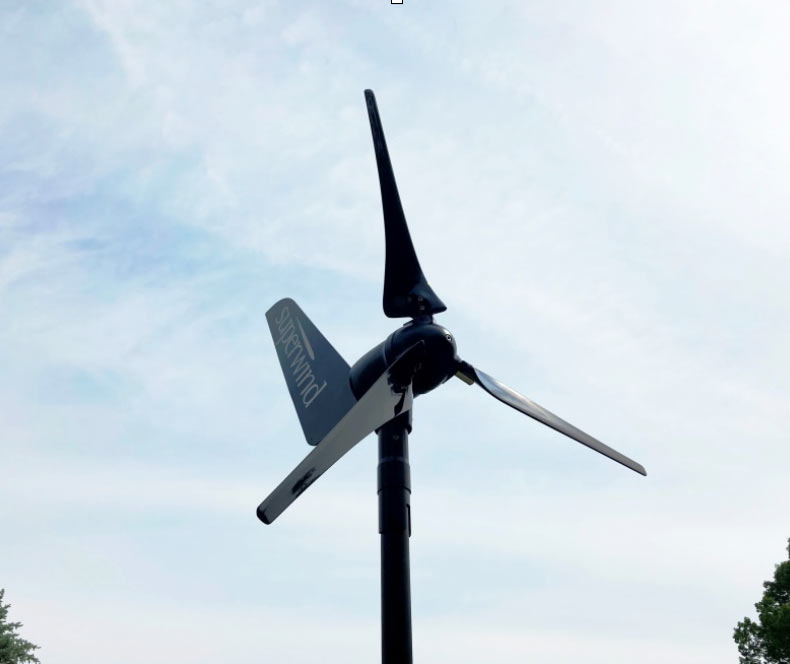 The SW-353 was the first micro-wind turbine (a turbine under 1000 watts) to utilize STAR Hub technology – all three blades pitch simultaneously during high and cross wind events.
The SW-353 is the same size and near the same output as the well known SW-350 however Superwind customers asked for a more robust wind machine for uniquely harsh locations.  Superwind added a back-bearing and the Star Hub technology (as found on the larger SW-1250) – thus creating something more than simply a heavy duty 350.  All SW-353s also feature a stainless steel mast bushing as well as very durable hand-wrapped gel coated fiberglass blades.  It should be noted that the SW-353 does use the same electrical components as the traditional SW-350.
$4,250 USD
Superwind Turbine
SW- 1250 STAR Hub Version
(2017 – present)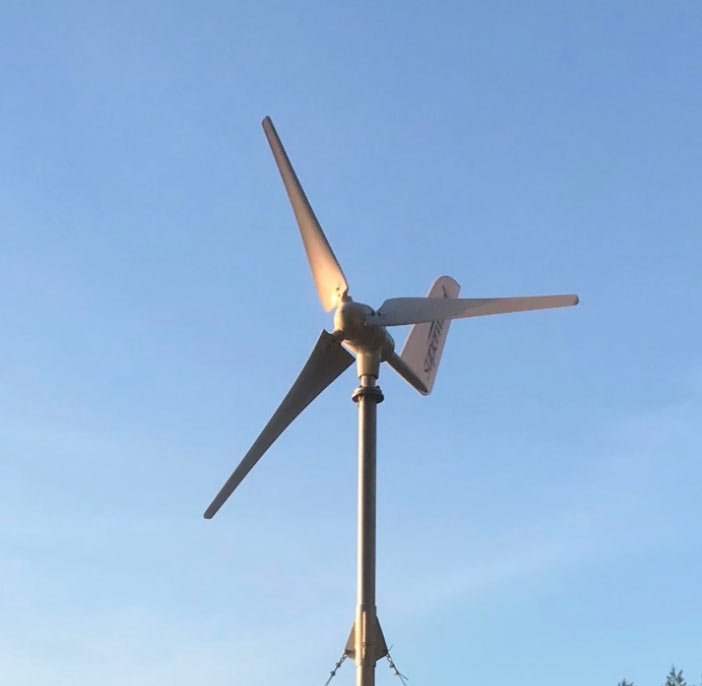 The SW-1250 is more than a larger version of Superwind's famous SW350 wind turbine.  The SW-1250 was the first turbine to feature the "Star Hub" system (Synchronous-Technology-Autonomous-Rotor) as well as both a dynamic breaking system as well as a physical disc brake.
With power production ranging from 8mph to 90 mph, the SW-1250 reaches an impressive 1.3kW at only 25 mph and continues making the rated power all the way to 90 mph.
Starting in 2021, the SW-1250 will only be available in 48V and due to high demand, is a special order only product.  Please contact us directly for more information.
$8,500 USD